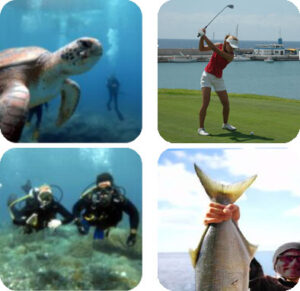 Mix and Match for the whole group or family. Sleeping 4 to 6 people, live aboard from 150€ pp per week. It's fine if you just want to relax aboard the boat and get out and about but there are options for excisions, golf, diving. fishing, horse riding.
Follow the link above for more about Golf del Sur and Amarilla Golf.
Please note: The reason we can offer your boat accommodation at this price is that we do NOT allow the boat to go out with guests. In addition, the boat expenses are 75% covered personally and not passed on to guests. We arrange your trips with the professionals. Please don't ask – to charter a boat, with or without skipper, starts in thousands not hundreds and it requires specialist insurance and appropriate licences.
Boat Trips Ranging from 2 to 5 hours from most location in South Tenerife and North.
---
Boat Charter
Luxury yachts for private hire in Tenerife – Prices start from just 45 Euros per person for a 3 hour private charter with food, drinks and crew!
Find them on Facebook: Tenerife Boat Charter