Santa Cruz Coliving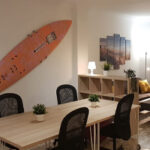 Details & contacts for Santa Cruz Coliving in North Tenerife. Please mention you found Santa Cruz Coliving on Tenerife Pages under Co-Living House Share. List your Room Rental Business for ...
Read more ...
Los Abrigos Room to Let
Los Abrigos Rooms to Let from €300 monthly. Shared house close to sea and harbour. Bills, wifi included. Los Abrigos Habitaciones en Alquiler desde 300€ mensuales. Casa compartida ...
Read more ...
Granadilla Room to Let
Granadilla Rooms to Let €290 monthly. Shared house in Granadilla Town. Alquiler de habitaciones en Granadilla 290 € mensuales. Casa compartida en Granadilla Pueblo.
Read more ...
Not listed for Rooms for Rent in Puerto de la Cruz? Contact us to see your flat, apartment, house advertised here.
Also try Facebook Group Tenerife Rooms to Rent
Find your local landlord in Puerto de la Cruz, All your accomodation requirements; find them here on Tenerife Pages.
For Granadilla or Abrigos, please visit Granadilla Rooms for Rent
Puerto de la Cruz