Best Exchange Rate in Tenerife
Gift Excursions offer the best exchange in Tenerife for your cash. Any amount exchanged on request and we offer an extra 0.5 point on any amount over £1000. See our ...
Read more ...
Boat Holiday Tenerife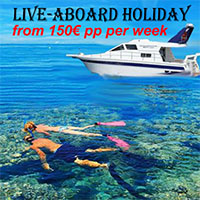 Live Aboard Boat Holidays – For that holiday with a difference. Golf, Dive, Fish or just relax. Starting at 150€ pp weekly for stay-aboard only. Moored at Amarilla Golf Marina, ...
Read more ...
0
Not listed for Diving Holidays in Arona? Contact us to see your Diving Holidays Business advertised here.
Find your Diving Holidays in Arona, All your dive holiday information, find them here on Tenerife Pages.
For other areas of Tenerife, please visit Tenerife Diving Holidays
Arona