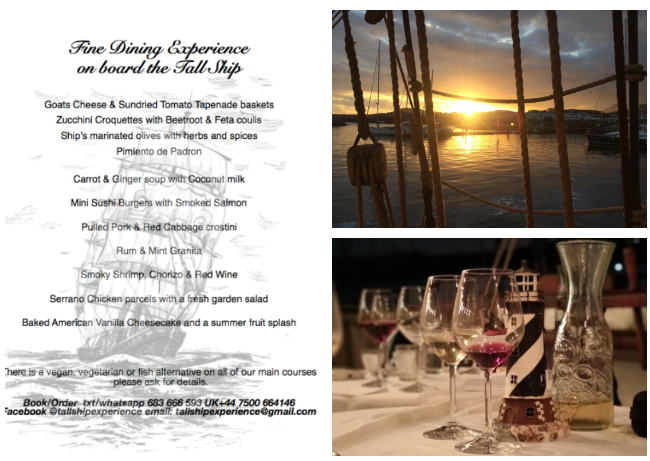 Historic Brigantine ocean-going Tall Ship. Enjoy fine dining experience on board for special occasions and every day pleasure and support the ongoing renovation of this beautiful vessel. All profits go towards keeping this ship sailing. When we are not sailing we are doing Fundraising events.
Only one menu for the night however we have different versions for various diets such as our famous Vegan and Vegetarian menu, Diabetic, Lactose-free or Gluten-free. Please let us know about your allergies at the time of booking.
Price €49 per person includes unlimited pre-dinner drinks at sunset, 12 courses food from around the world inspired by the ship's 61 years of travels, served with finest specially selected Tenerife wine from the vineyards of Abona which we pick up every week directly from the vineyard. Incredible atmosphere. Step back in time – enjoy the white sails of romantic by-gone era. Get on board for an adventure or relaxing time whichever you choose.
There is also the option to stay in one of our guest cabins for only €30 per person including breakfast.
Doors open from 7pm food served from 8pm Every day of the Week. Booking essential
tel/whatsapp +34 683 666 593 or +44 7500 664 146 or buy tickets online at www.tallshipexperience.eu